Print-friendly version
Gold Exploration Supplement to BTU PR of May 25, 2020
One of the tools that will be used to help define the location of gold mineralization on the property in the 2020 field season is an expanded, more systematic gold in till sampling program. A previous, limited till sampling program yielded many samples with high counts of gold grains in till as well as samples with a high proportion of pristine gold grains. These results support the possibility of nearby bedrock gold mineralization, and one of the goals of the upcoming till sampling program is to vector towards these sources. The expanded till sampling program will be a key property wide exploration technique to search for areas of the property where overburden cover hampers traditional boot and hammer prospecting techniques.
As presented on the Company's website (www.btumetals.com/tillsurvey) and in its presentation materials, sampling of till materials for gold grain content and morphology is a well-developed modern exploration technique. A recent example of success in using gold in till to vector to the bedrock source is the discovery of new, significant gold mineralization by Rupert Resources in Finland. That discovery has added more than $100 million to its market cap in the past month.
Figure 1: Geological map of BTU Metals' Dixie Halo property and Great Bear Resources' Dixie property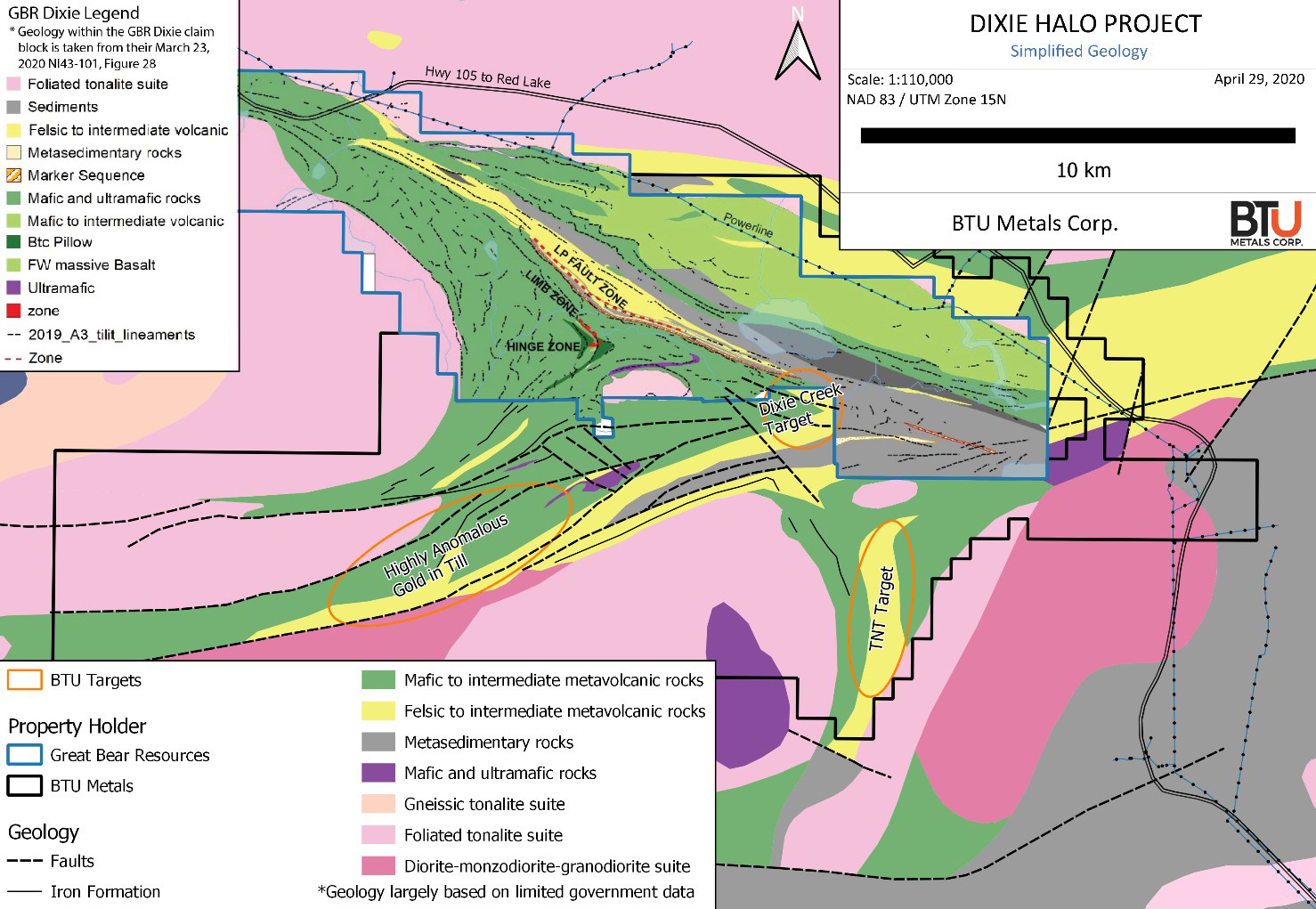 Regional Scale Gold Potential in BTU SW-NE Structures
There are a growing number of indicators pointing to the presence of meaningful deep-seated structural trends on the Dixie Halo property (as summarized in Figure 1). New information, including information from recent drilling as well as regional and property wide geophysical survey data is providing support for the interpretation of the presence of more than one significant SW-NE trending structure on BTU property and also supports the interpretation that these structures have the potential to host significant gold mineralization.
Follow on Exploration and Drill Program
The exploration crew is back on the ground to advance the understanding of the geological setting at BTU's multiple target areas along the SW-NE structural trend, including Dixie Creek and the newly identified gold in till area. These interpreted structural trends extend for more than 20km on the Company's 100% controlled properties.
While the Company drill tests the highly-conductive TNT targets, we will be assessing the ongoing results of field work including mapping, prospecting and further geophysical surveys as well as conducting further till sampling to identify specific targets for drill testing.
We will separately provide an update on the next phase of BTU's gold exploration program.