Project Snapshot
Location


Ontario, Canada
Commodity


Gold
Interest


100%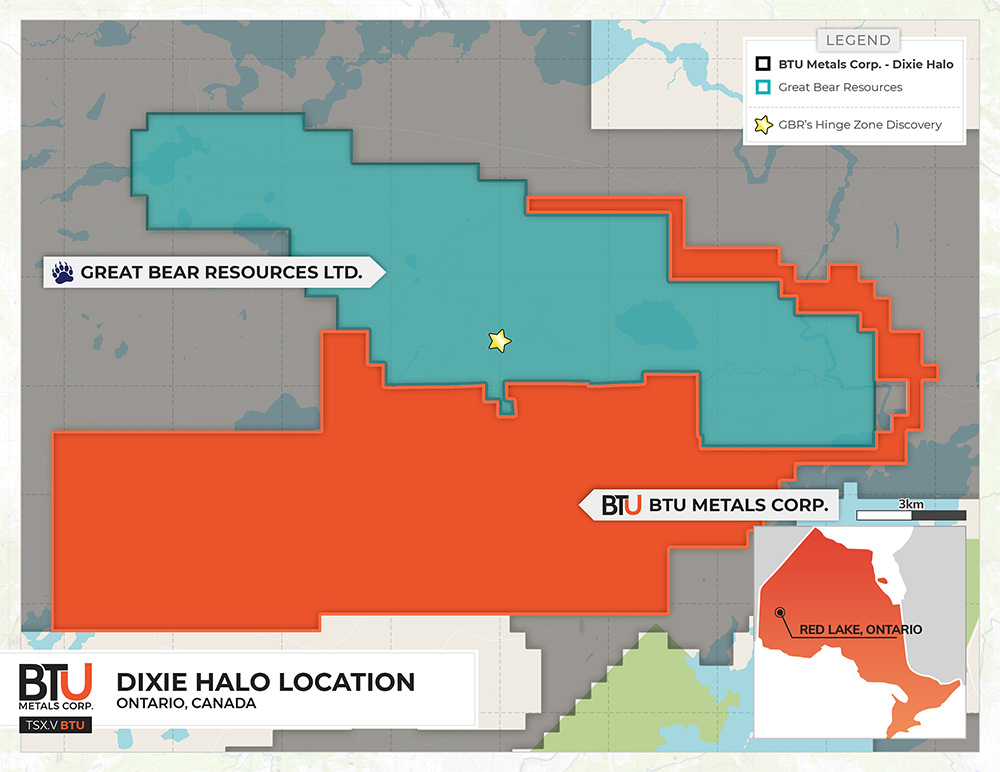 Project Overview
The Dixie Halo gold project consists of four properties totaling approximately 12,963 hectares surrounding Great Bear Resources Ltd.'s Dixie gold project. Great Bear reported a high-grade discovery in drill core assaying 16.35 meters of 26.91 g/t gold and 7 meters of 44.47 g/t gold in two holes on the "Hinge Zone" at Great Bear's Dixie Project (see PR dated August 22, 2018).
The gold occurrences of Great Bear's project occur along a 2.5 km strike between 0.5 km and 1.5 km of the boundary adjacent to Dixie Halo South (technical report by C. Lee of SRK Consulting, 2004). All these units can be DIXIE HALO I OVERVIEW traced around a fold hinge with the southwest limb of this structure laying within the Dixie Halo South property. An iron formation marker unit can be traced from the Great Bear property into Dixie Halo South
Dixie Halo NI 43-101 Technical Report
Historic Work
Privately-run exploration at Dixie Halo South included trenching, power and manual stripping, prospecting, and limited sampling. Gold values obtained from surface sampling have returned values up to 4.61 g/t gold in association with 283 g/t silver and 11.5 per cent copper from a limited 2013 grab sampling program.
A HELITEM EM/MAG survey was conducted by the vendor in 2012. Processing this data resulted in 30 gold and volcanogenic massive sulphide targets being outlined, six of which are currently being focused on.
Condor North Report
The first detailed maps of the property were created with the assistance of Tony Pryslak, former resident geologist with 50 years of experience in the Red Lake area.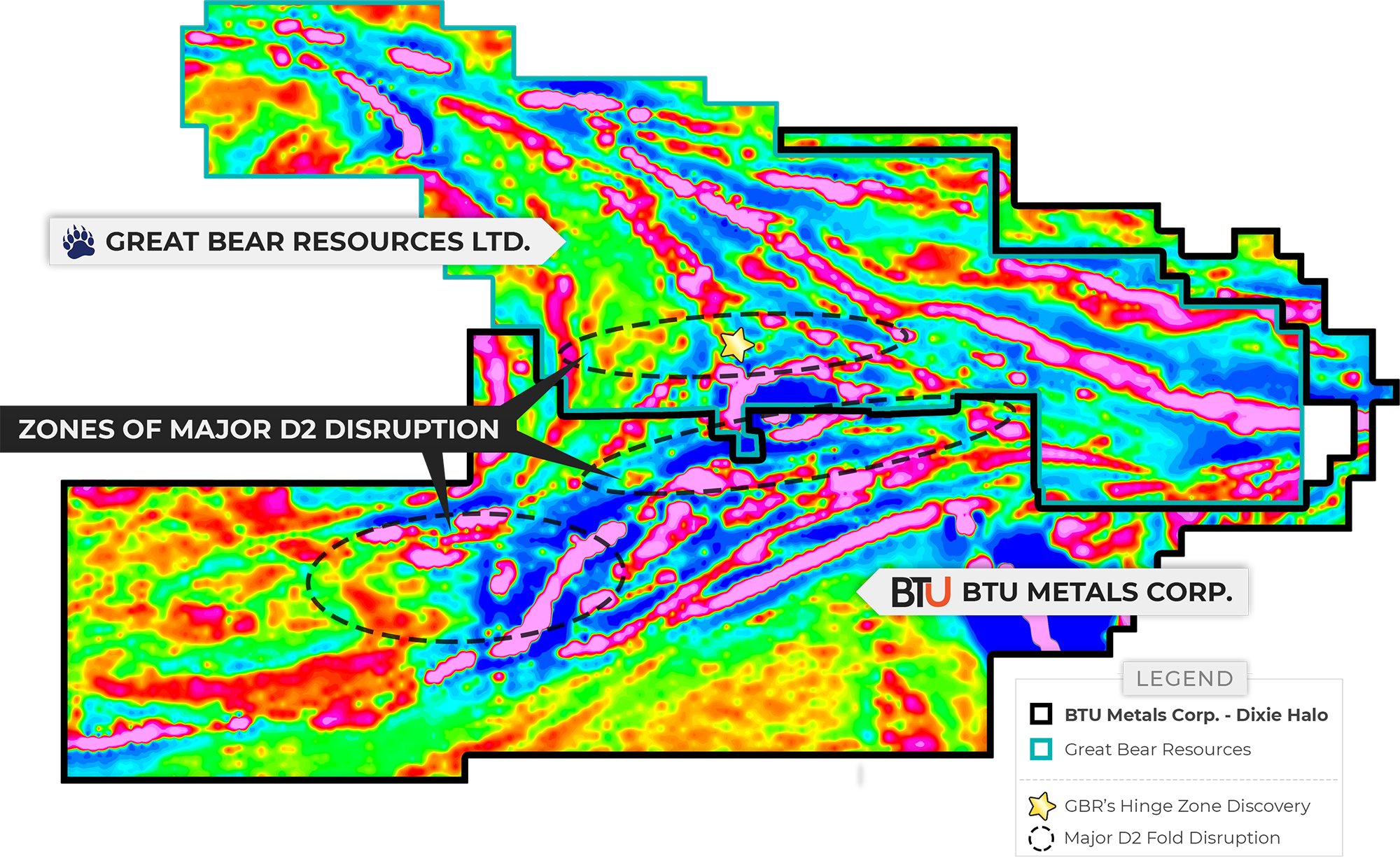 Exploration Targets
Initial findings of an ongoing, in-depth assessment of geophysical data include the existence of multiple zones of major D2 fold disruption. Well known geophysicist Mr. Alan King of Sudbury, Ontario has helped identify D2 folds within the Dixie Halo boundaries that are of particular interest to BTU as these have been successful indicators for neighboring Great Bear Resources Ltd. (GBR-TSX:V) at its Dixie Project. Additionally, the Red Lake-Campbell complex (Red Lake gold mine) also occurs proximal to a regional D2 fold where shear zones developed and acted as primary hydrothermal fluid conduits.
Hinge Offset
Additionally the "Hinge Offset" thesis, initially developed by BTU Metals advisor Dr. Tony Pryslak, helped shape the current exploration targets on the Dixie Halo property. This thesis was reinforced with supporting evidence from the Fugro Helitem Survey flown by the vendor of one of the Dixie Halo claim blocks.
Current Work Program
BTU is currently drilling the eighth hole of it's current work program with 7 holes, totalling approximately 1,300 meters, now complete. Drilling to date has focused on testing IP anomalies near the north central boundary with Great Bear Resources (GBR-TSX:V) about 1.5 km south of GBR's "Hinge Zone". Select core continues to be logged, sawn and shipped to the lab for assays as the holes are completed.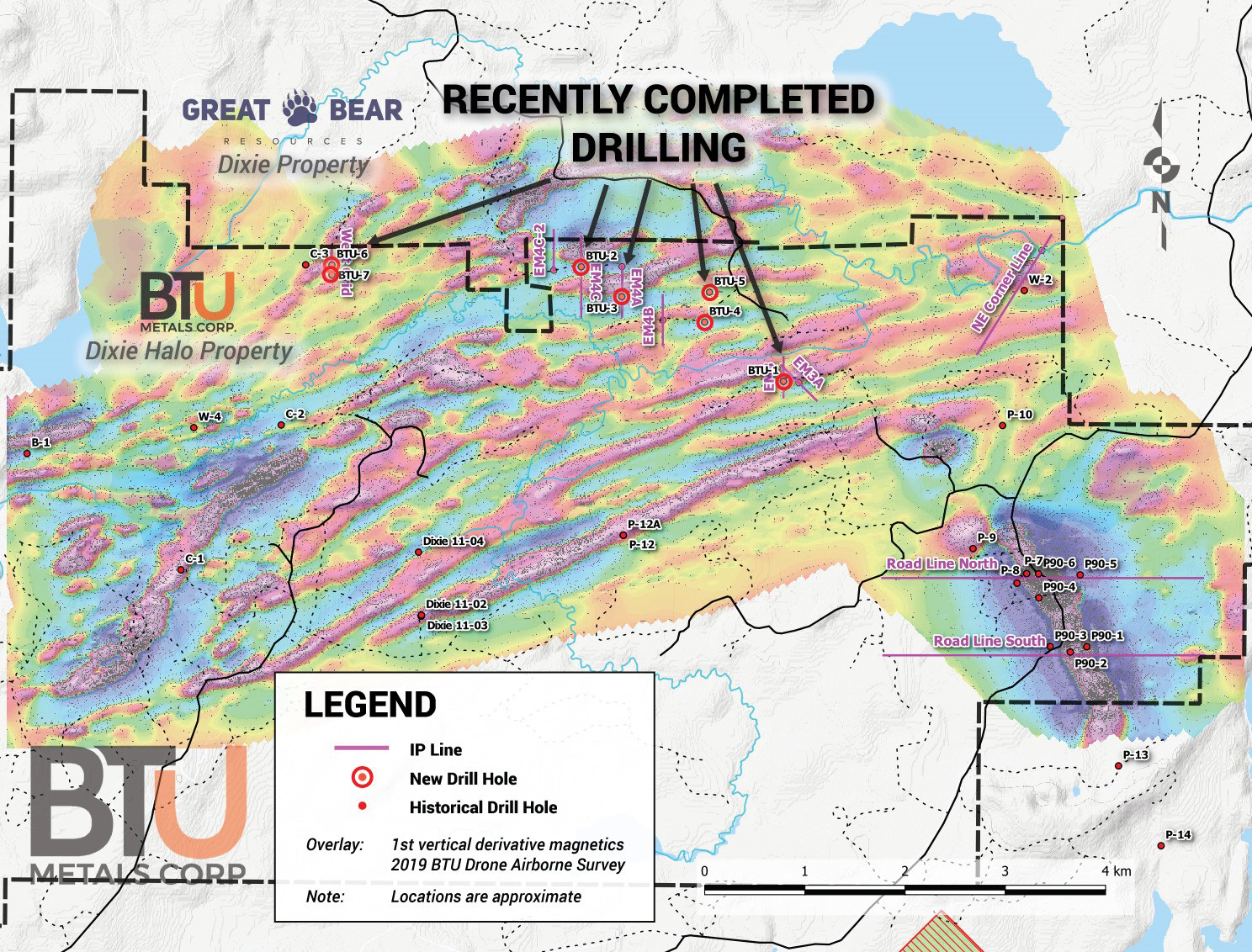 Among drill targets to be tested is a fence of short holes to test strong, broad IP chargeability anomalies on what appears to be the strike extension of GBR's newly recognized "LP Fault" structure. This structure hosts high grade gold at several locations along several kilometres and the structure is reported to be 18 km in length. BTU geologists believe the southeastern portion of this fault appears to cross BTU's ground. Other sub-parallel structures have been interpreted to be present or extend on to the Dixie Halo property.
Concurrent to the drill program, geophysical work plus prospecting is ongoing to identify additional targets and further assess the potential of the project.