Print-friendly version
Project Highlights
19,723 hectares of highly prospective land in Red Lake, Ontario, a safe established mining jurisdiction with economic access to all required infrastructure, resources and services
High potential for gold discoveries with multiple surface indications of gold mineralization on large land package in the prolific Red Lake gold district, contiguous with and surrounding Great Bear Resources' discoveries, and with many key geological and structural trends crossing our common boundary
Till sampling program is underway, targeting bedrock sources of gold mineralization
Drilling will restart this month on a number of widely spaced targets
3D Geophysical-Geochemical review underway at TNT discovery, where first phase of drilling found a large alteration system enriched in copper, silver, as well as sporadic gold
Strong cash position with more than $2M in treasury
101,965,569 shares outstanding and a compelling market cap of ~$15M
Red Lake, Ontario
The Red Lake area has a long history of mining, having produced over 28 million ounces of gold in the past century. First Nations in the area have a long history of working with mining companies and have a good understanding of the exploration process and the benefits their communities will enjoy if a project is to become a producing mine. With a long history of operating mines in the town of Red lake there is a well-trained stable mining work force available and a full complement of mining equipment suppliers in the area. Many service providers support mineral exploration in the area, including drillers and analytical labs, resulting in very low exploration costs.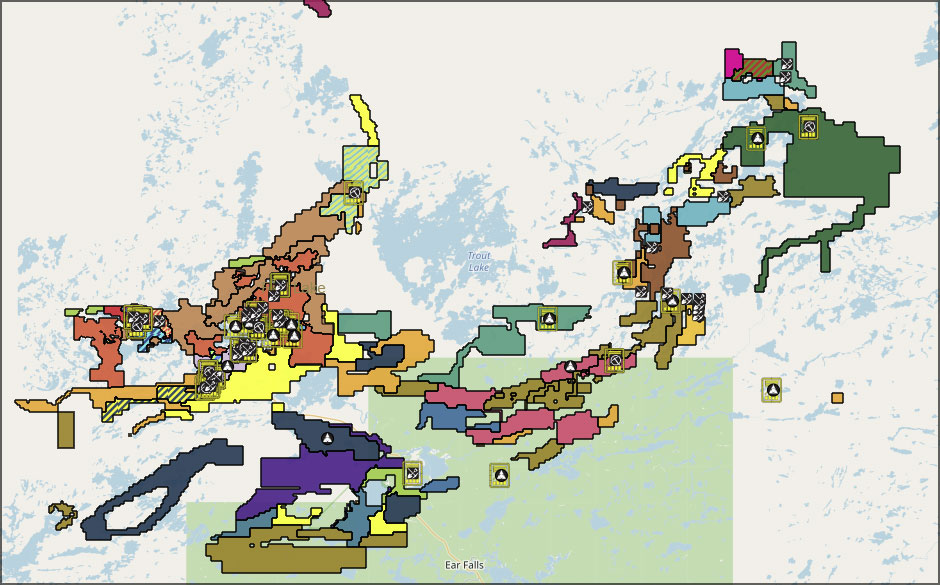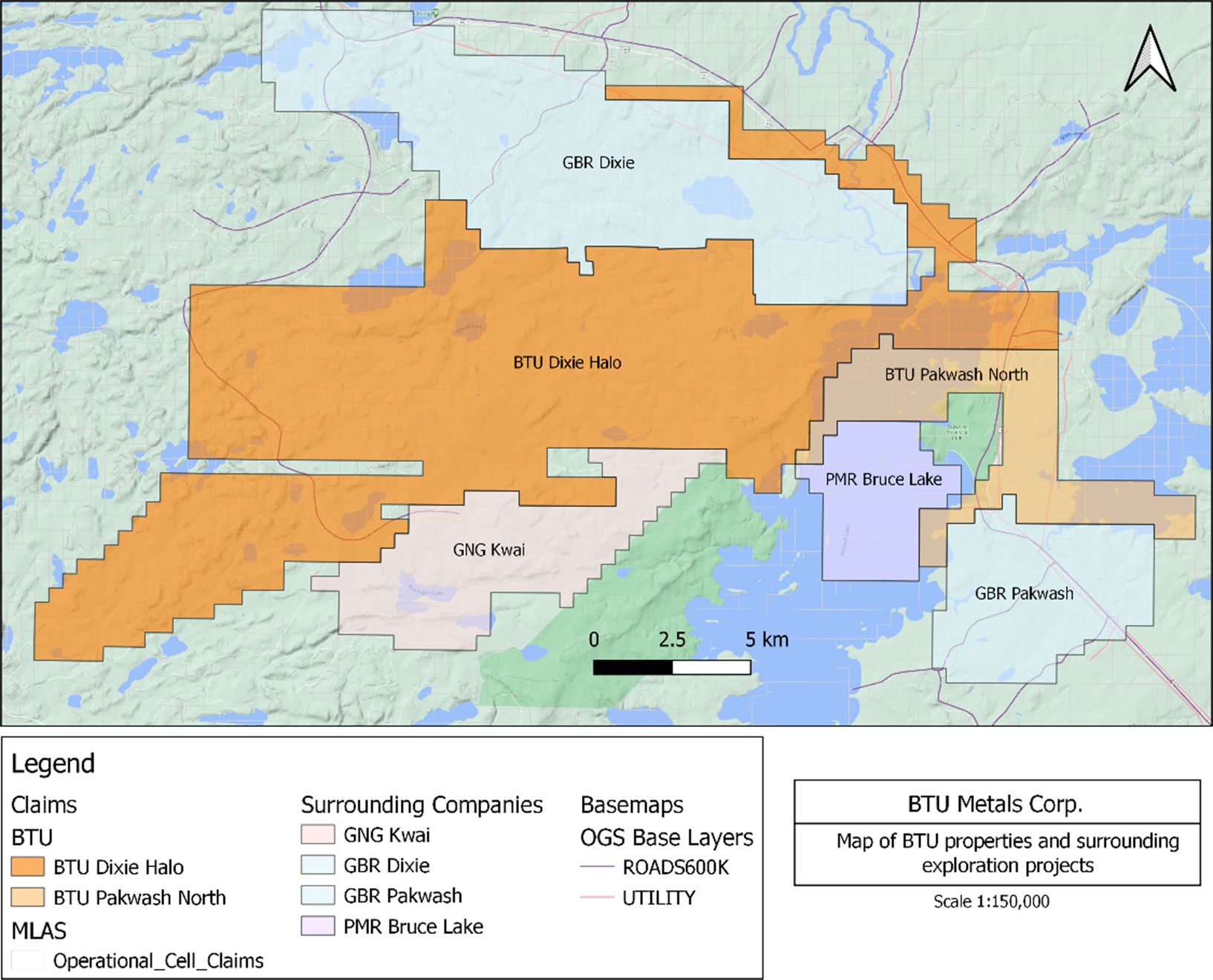 Recently Developed
Red Lake continues to attract investment, recent notable deals include:
Evolution Mining takeover of Newmont-Goldcorp assets; Sept. 2020 new resource estimate of 11 M oz contained gold
PureGold Mine poured first gold in Dec. 2020
Battle North completed feasibility study Dec. 2020
Great Bear Resources now 'defining limits and grade' of new discoveries
BTU's Dixie Halo project is close to all the infrastructure needed to build and operate a mine, with highways and roads on the property, as well as powerlines and a natural gas line crossing the property and there is plenty of water on the property.
The Ontario Drill Hole Database reveals just how underexplored the Dixie Halo property is relative to the neighboring Dixie Project. Great Bear's Dixie Project had more than 150 holes completed on it prior to them acquiring it. By contrast the BTU properties had only about two dozen drill holes completed on them historically.
Much of the BTU property position area is underexplored due to the fact that the area is almost entirely overburden covered and as such prospectors were unable to successfully explore the area using traditional methods.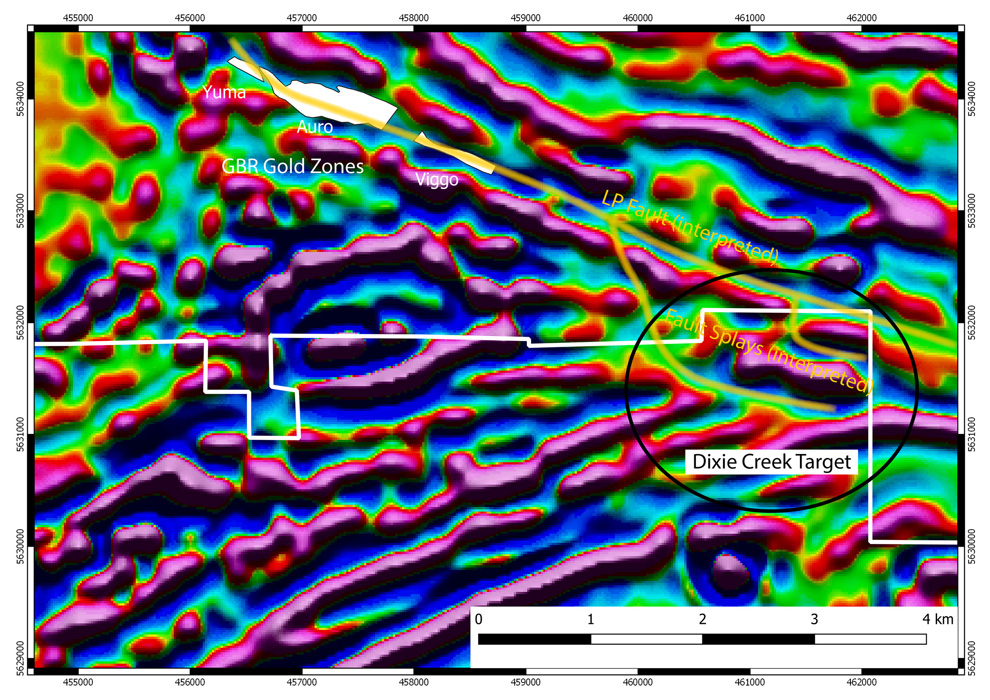 Three High Priority Targets
Gold in Till
Along structural trend that mirrors geology of LP fault discovery
Numerous till samples with high counts of gold grains, including pristine gold grains, indicating a nearby bedrock source of gold
Only a small area covered by till sampling so far
Recent drilling has found first visible gold in bedrock
Dixie Creek
On trend with LP Fault discoveries of Great Bear
Mafic-felsic contact identified
Sampling program underway targeting bedrock sources of gold mineralization
TNT
Initial work indicated a large gold-bearing VMS-style alteration system
State-of-the-art geophysics revealed numerous large moderate to high conductance targets within the system
Geochemical review is now underway to prioritize targets

Multiple D2 Folds
Additional High-grade Gold Targets
An ongoing, in-depth assessment of geophysical data has found the existence of multiple zones of major D2 fold disruption
With the help of the well-known geophysicist, Mr. Alan King, BTU has identified D2 folds within the Dixie Halo boundaries that are of particular interest as these have been key indicators of gold mineralization on GBR's Dixie project
The Red Lake-Campbell complex (Red Lake gold mine) also occurs proximal to a regional D2 fold where shear zones developed and acted as primary hydrothermal fluid conduits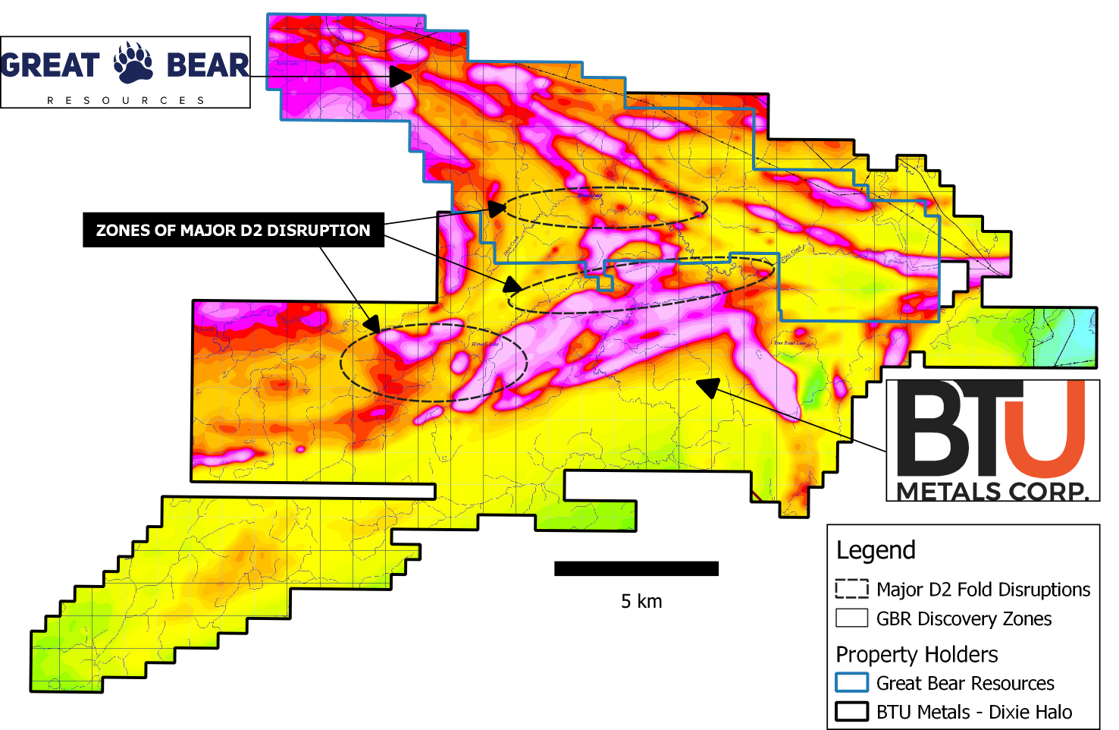 Highly Prospective Geology
The geology of the Dixie Halo property is remarkably symmetrical with GBR's project. There are many exciting targets across the property, that are supported by multiple lines of evidence including prospecting, geological data and geophysics. Currently the Company is focused on advancing the TNT, Dixie Creek & Gold in Till targets.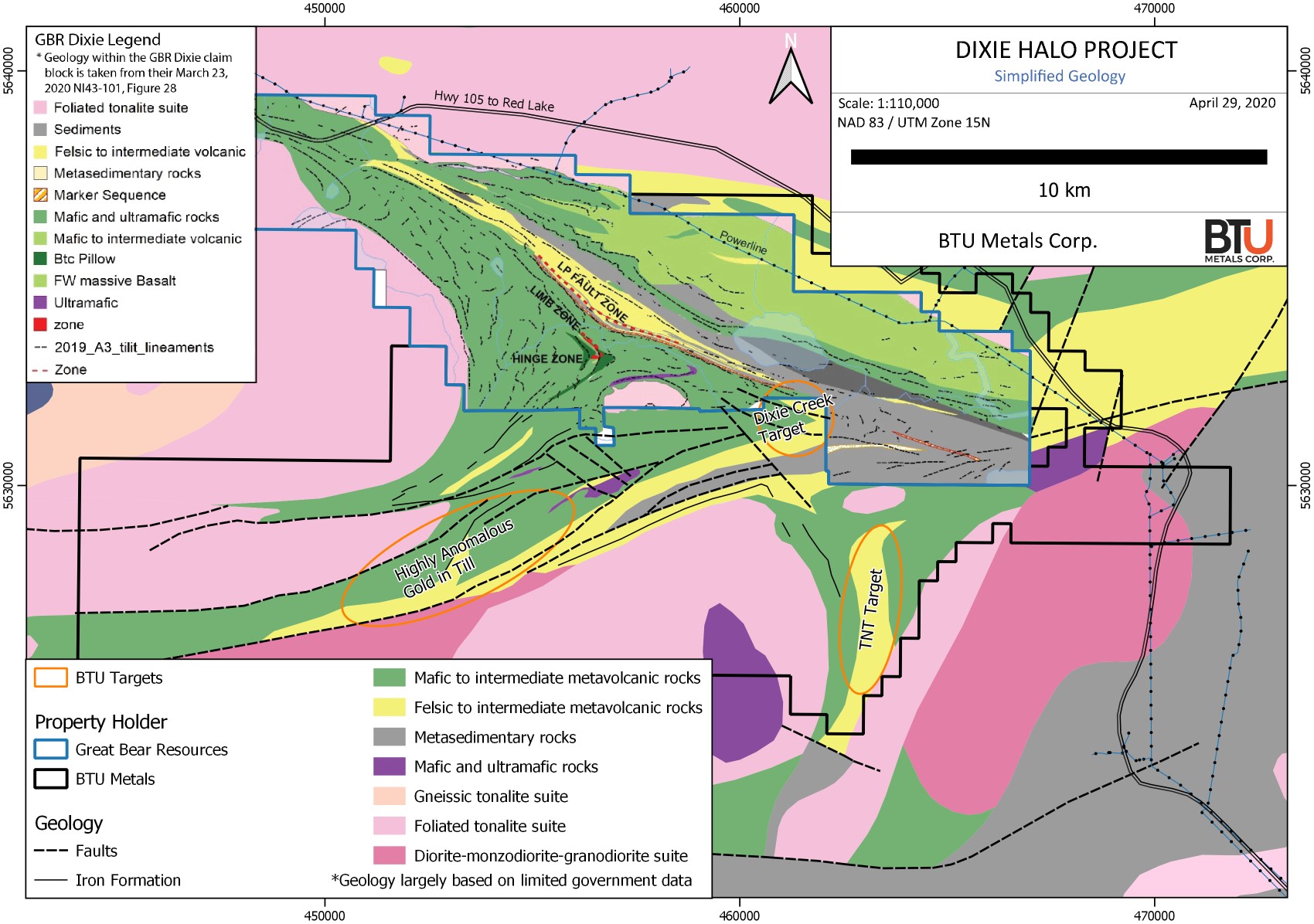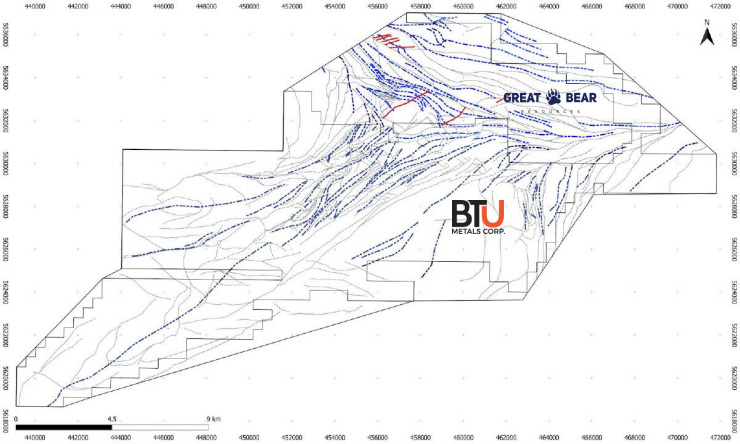 Lithostructural Review
Independent structural geology experts identify a number of target areas for follow up work
The interpretation shows that rock packages within area have undergone complex poly-deformation resulting from at least four phases of folding
Major shear/fault zones trend N-S, WNW and ENE and provide a good mechanism for fluid migration and the formation of mesothermal-type gold deposits
A sequence of felsic volcanic rocks has been correlated across the area providing a potential target unit that may be prospective for gold and/or base metal mineralization
As a result of the interpretation, a number of target areas have been recommended for follow-up based on their interpreted structural and lithological characteristics and available independent geological observations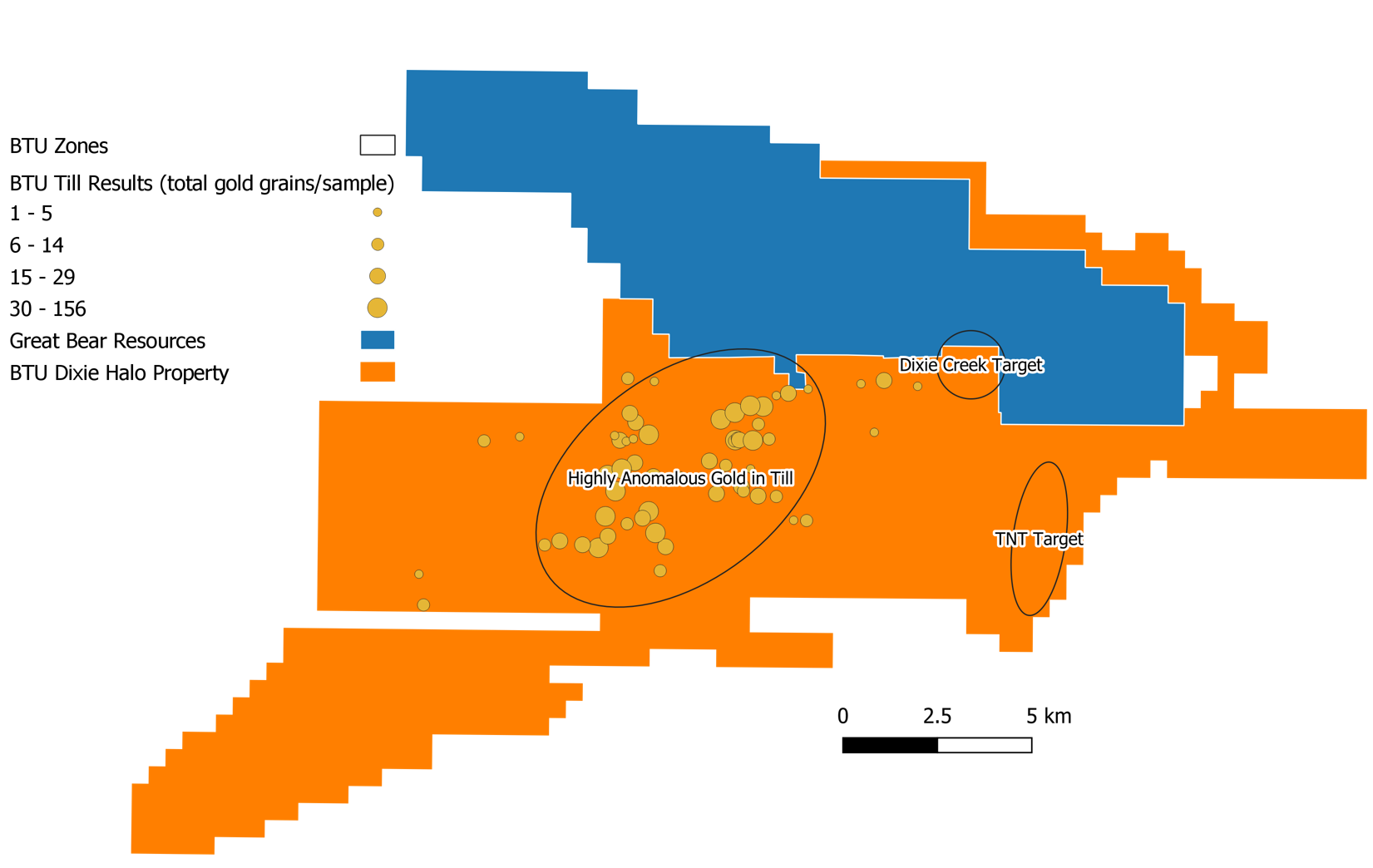 DIXIE CREEK TARGET
Overview
The Dixie Creek target is bordered by Great Bear's Dixie project to the north and east and is on trend with their LP Fault discoveries. Potential for high-grade gold is indicated through multiple lines of evidence:
BTU drill program in the Dixie Creek Target area encountered rock types similar to those reported by Great Bear to be the hosts of, and adjacent to, their new LP Trend discoveries
Geophysical work, including airborne mag and ground IP, have identified many favourable structures that warrant further investigation
Small SGH soil sampling orientation survey was completed in 2019, with independent lab rating gold prospectivity 5.5/6 (see Feb. 6, 2020 PR); the same method and lab have been used successfully by GBR (see GBR PRs dated Aug. 1, 2019 and Oct. 10, 2020)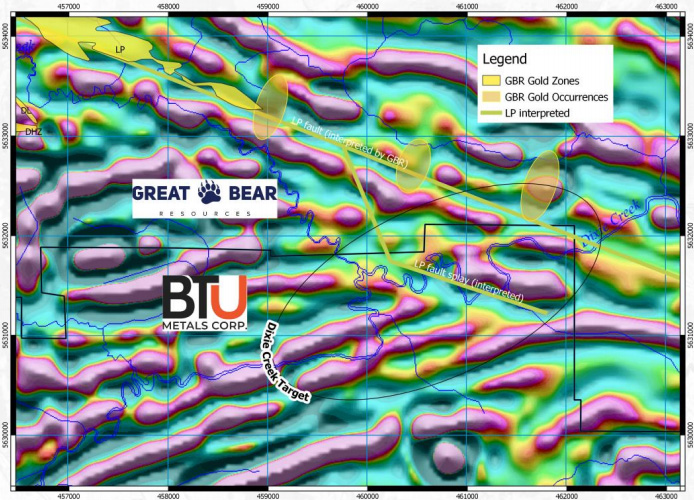 Targeting LP Trend and Structures
The "LP Trend" structure hosts GBR's most recent discoveries, with results such as 31.33 g/t Au over 20.55m and 5.23 g/t Au over 78.75m
GBR has identified several gold occurrences immediately to the north and east of the Dixie Creek Target
In greenstone belts, it is not uncommon for splays off of main fault structures to contain as much gold as the actual main faults
BTU's Dixie Creek Target area hosts both the main LP Trend structure as well as many associated structures
GOLD IN TILL
Tracing of anomalous gold in till sample results back to their source as a way to locate new areas of gold mineralization under overburden has been proven to be a valid, unique and powerful way to discover new gold deposits
Examples of success include Bell Creek, Casa Berardi, Rainy River, and recently Rupert Resources
Pristine gold grains have not typically travelled far from the location where they were scraped off the bedrock surface by the glaciers during the time of formation of the till material
The 2020 till sampling program has found up to 156 gold grains per 10 kg sample
Recent drilling intersected minor visible gold near the interpreted location of where the numerous high "gold in till" counts may have originated
AI GENERATED TARGETS NARROW SEARCH
Red Lake is an ideal setting to apply Artificial Intelligence for gold exploration (lots of data and known gold deposits)
Windfall Geotek has analysed 1/3 of the property area (67 square km) and identified 35 gold exploration target areas
Additional data processing and AI investigations are continuing for areas not yet completed
Site visits, till sampling, and geophysics are being used to qualify the AI targets and determine drill targets within them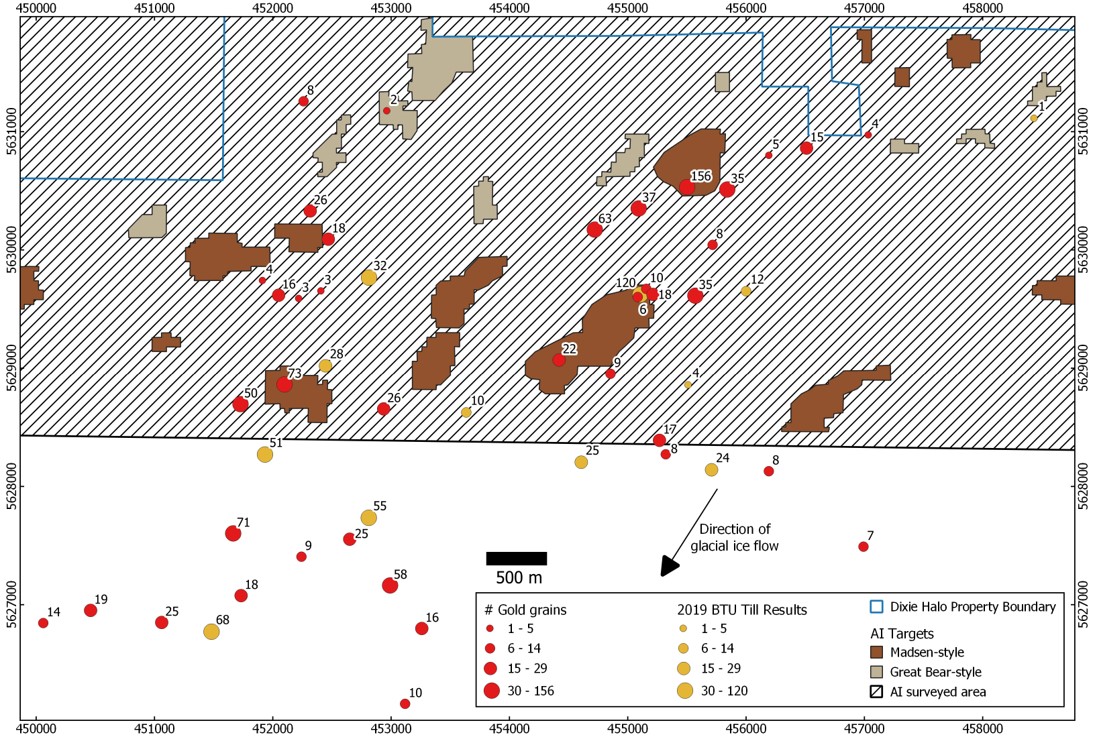 TNT TARGET
The discovery of the polymetallic "TNT" target in drill holes 12 and 13 announced on November 28, 2019
Assays from multiple drill holes reveal elevated copper, gold, and silver values
Geophysics, including ground IP and resistivity, as well as airborne VTEM and downhole electromagnetics are being used to ascertain the footprint of the target and to define additional drill targets
The lithology, alteration, and mineralization encountered in all holes drilled in the TNT target coupled with the geophysical data provide compelling indications of a large alteration system with copper, silver & gold mineralization

With nineteen holes completed in the TNT area we now know it extends for more than 2,200 metres. The target is up to 500 metres wide – holes drilled to date are providing us with geological data and are rather widely spaced so they can act as platforms for downhole EM surveying. The TNT target is extensive, and the downhole & surface EM survey has served as a fast-track vectoring method.

Bruce Durham, BTU VP of Exploration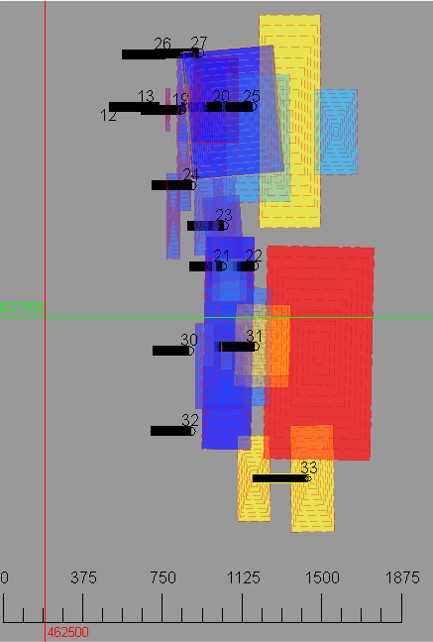 Initial Drill Program
Following the discovery of the TNT target in drill hole 13, a ground Induced Polarization (IP) and Resistivity surveying program was undertaken on 200 meter spaced lines
An IP/Resistivity anomaly, defined by a chargeability high and a resistivity low, which is interpreted to be caused by the presence of higher concentrations of sulphide minerals, was used to plot the initial phase of drilling, with holes spaced approximately 200 meters apart in order to serve as a platform for downhole geophysical methods
All phase 1 drill holes contained alteration as well as elevated values of copper, silver and gold, with the best assay results coming from L12N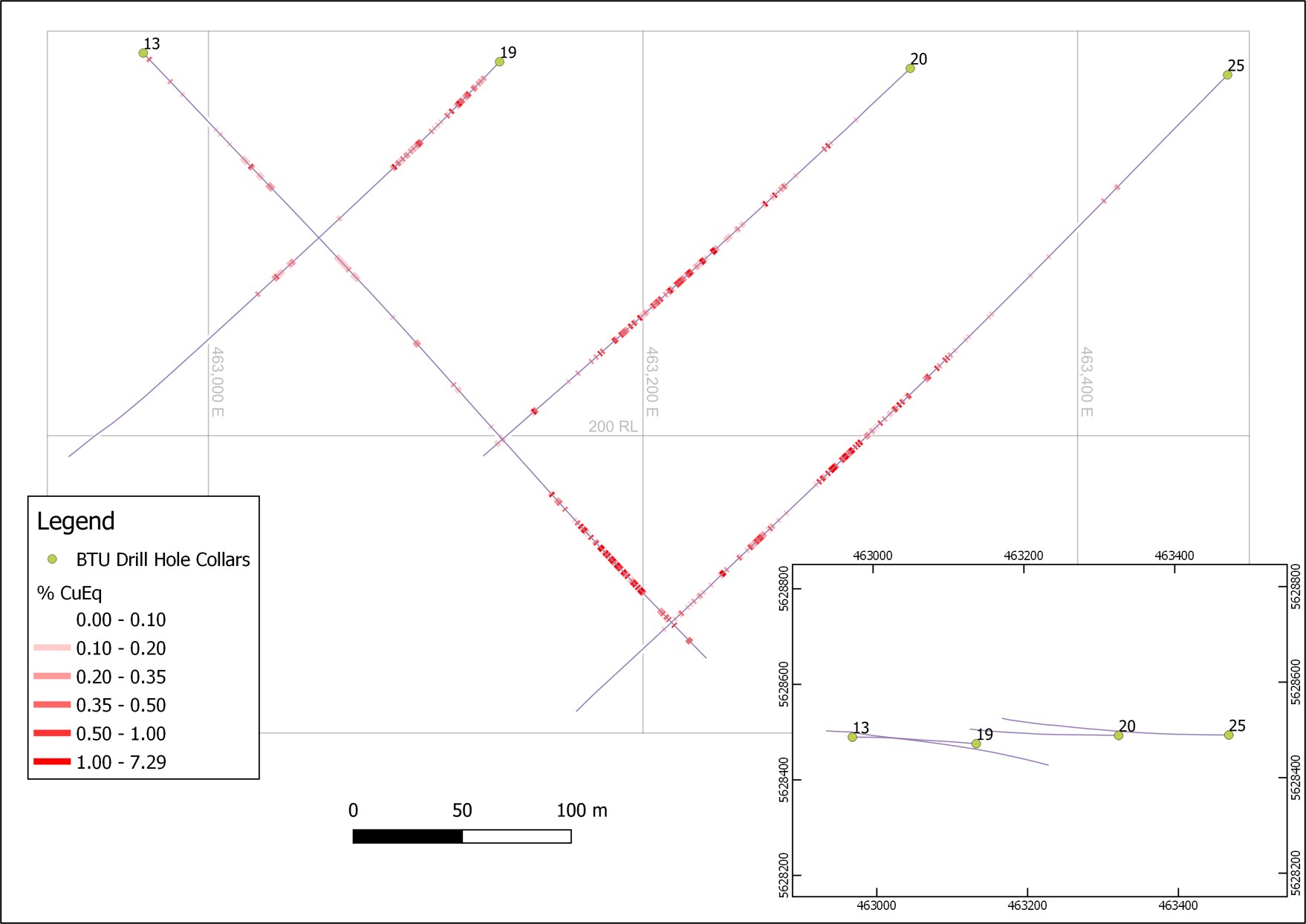 Initial Drill Results
Hole 13 intersected 44.3m of 1.14% CuEq* mineralization from 300m down hole, including 30m of 1.46% CuEq* which contains 9.9 m of 2.05% CuEq* and 7.2m of 2.02% CuEq* (see PR from Dec. 16, 2019)
Hole 19, collared in mineralization, intersected 60m of 0.27% CuEq* including 8.25 m of 0.56% CuEq* and individual sample results as high as 0.6 g/t Au over 0.6m; 30.7 g/t Ag over 1m; and 1.33% Cu over 1m (see PR from Jan. 29, 2020)
Hole 20 intersected 99.8 m of mineralization including 77.4m of 0.44% CuEq* from 123.5m down hole with numerous higher-grade subintervals including 2.3m at 1.47% CuEq* (see PR from Jan. 29, 2020)
Hole 25 assay results include 2.27% CuEq* over 7.80m within a very broad zone from 182m down hole assaying 0.40% CuEq* over a core length of 147.0m (see PR from March 18, 2020)
View drill core pictures at www.btumetals.com/core
Electromagnetics
The Time Domain Electromagnetic (TDEM) geophysical technique is a best practice method that is ideal for targeting massive sulphide mineralization
Survey work included 'down hole' surveying and two phases of large loop ground surveying
Typical massive sulphide deposits range in conductance from 25 to 200 Siemens (S) or higher
Multiple conductors within the alteration footprint fall within the range of massive sulphide conductance
Our best results to date, discussed on previous page, came from 5-10 siemen conductors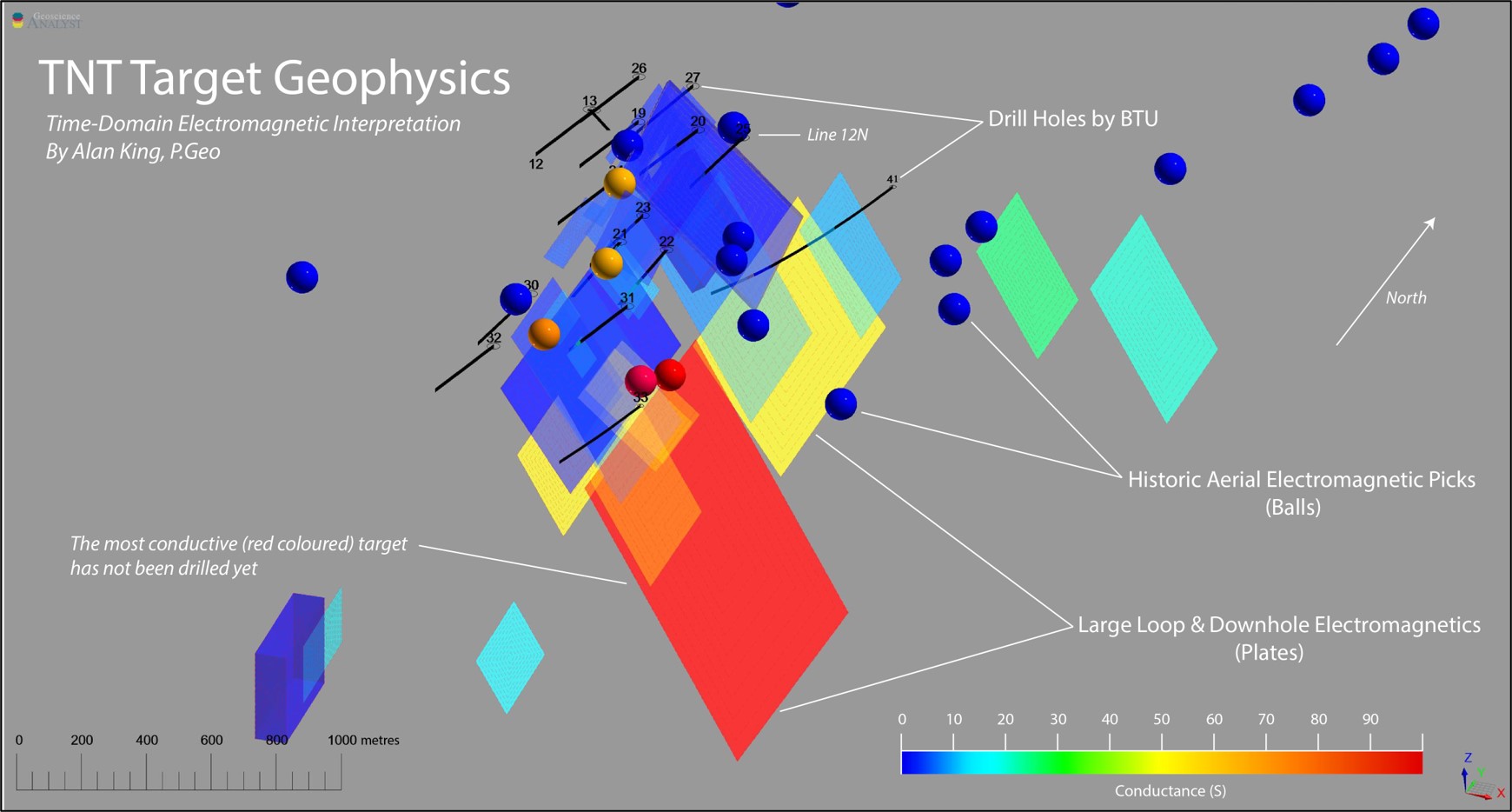 Five Large Highly Conductive Targets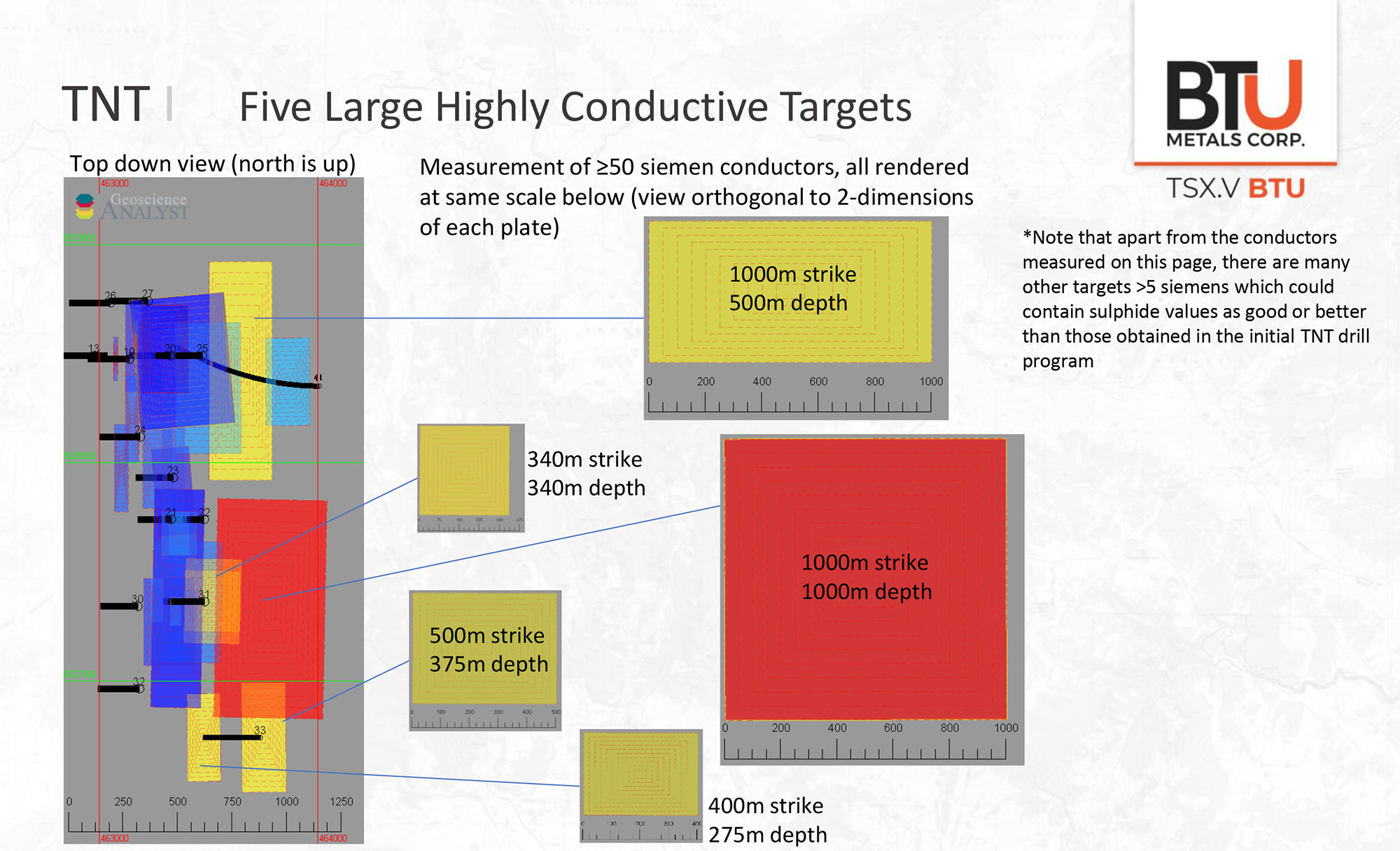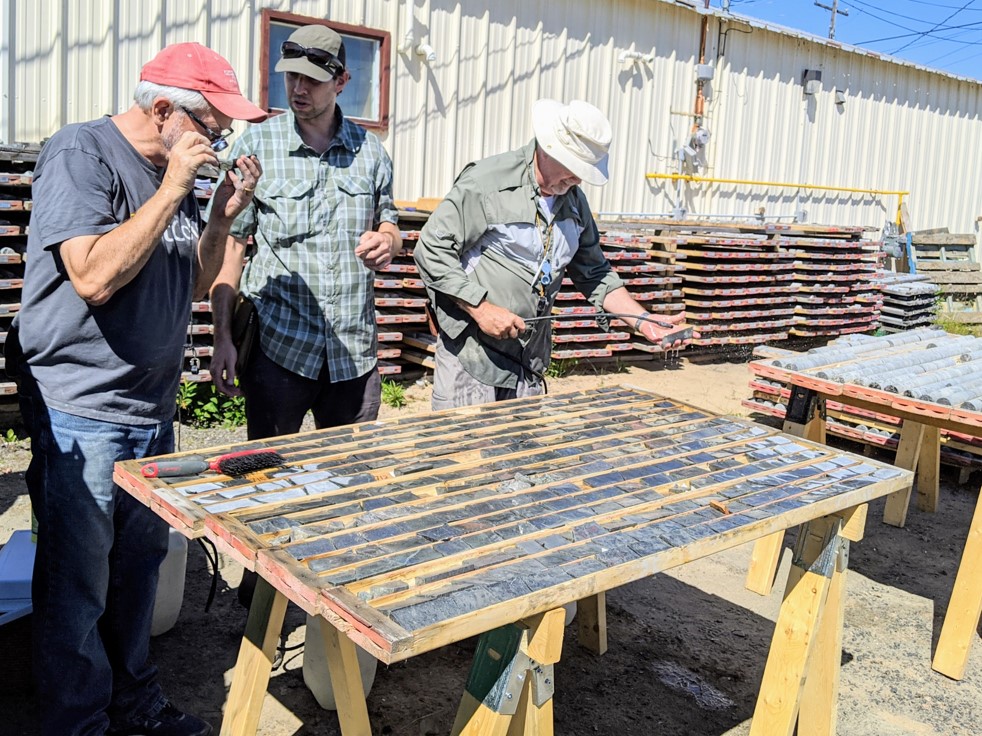 Geochemistry
First drill hole into highest conductance target completed, no massive sulphides intersected
Volcanology and Economic Geology expert, Prof. Harold Gibson, brought on as a consultant to review geological and geochemical data and integrate it with the geophysical model
Additional geochemical samples have been taken to better characterize rock types and alteration
A more sophisticated and predictive model that integrates geophysics, geochemistry, and geology in 3D GIS formats to improve identification of the key elements of the TNT alteration and mineralization model will lead to improved chances for subsurface discoveries
Looking Forward
Gold Targets
Gold assays expected shortly for Fall 2020 drill program
Further results from 2020 till sampling program expected shortly
Drilling will restart in February focused on various well spread-out gold targets in the central and NE portions of property
TNT Target
Expert's 3D geochemical-geophysical interpretation expected in early new year