Print-friendly version
Project Highlights
19,723 hectares of highly prospective land in Red Lake, among the richest gold mining camps in the world
Land package contiguous with the flagship Dixie Project of Great Bear Resources (TSXV:GBR), and its outstanding discoveries that appear to follow a trend that crosses the BTU property. There are also other proximal structures that extend southeasterly onto BTU's property
Multiple surface indications of gold mineralization across BTU's SW-NE regional structure including till samples with as many as 120 gold grains (99 pristine); rock samples as high as 13.69 g/t Au indicate the presence of gold mineralization on the BTU property
Discovery of the TNT Target (November 2019) in drill holes 12 and 13, with significant intercepts of mineralization and alteration, assay highlight is 44.3 m of 1.14% CuEq with intervals as high as 5.56% Cu, 99.6 g/t Ag, and 2 g/t Au
New geological and geophysical data indicates the potential for polymetallic, gold-enriched "volcanogenic massive sulphide" (VMS) mineralization
Over 2 km of strike has now been drill tested with all holes intersecting alteration, lithology, and mineralization consistent with a VMS model
Red Lake, Ontario
The Red Lake area hosts a variety of service providers that support mineral exploration, including drillers and analytical labs, resulting in very low exploration costs. BTU's Dixie Halo project is close to all the infrastructure needed to build and operate a mine, with highways and roads on the property, as well as powerlines and a natural gas line crossing the property and there is plenty of water on the property. First Nations in the area have a long history of working with mining companies and have a good understanding of the exploration process and the benefits their communities will enjoy if a project is to become a producing mine. With a long history of operating mines in the town of Red lake there is a well-trained stable mining work force available and a full compliment of mining equipment suppliers in the area.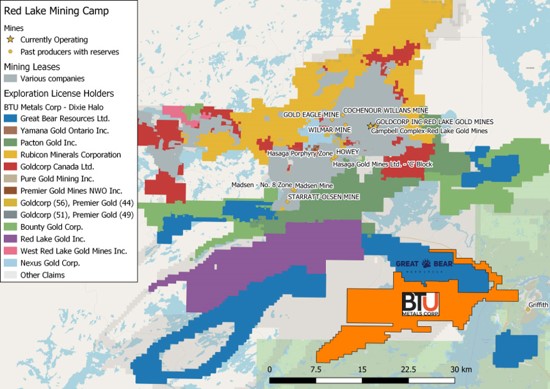 Historically Unexplored
The Ontario Drill Hole Database reveals just how underexplored the Dixie Halo property is relative to the neighboring Dixie Project. There are fewer than two dozen historic holes in BTU's property, while Great Bear's Dixie Project had 150+ holes in it prior to them acquiring it.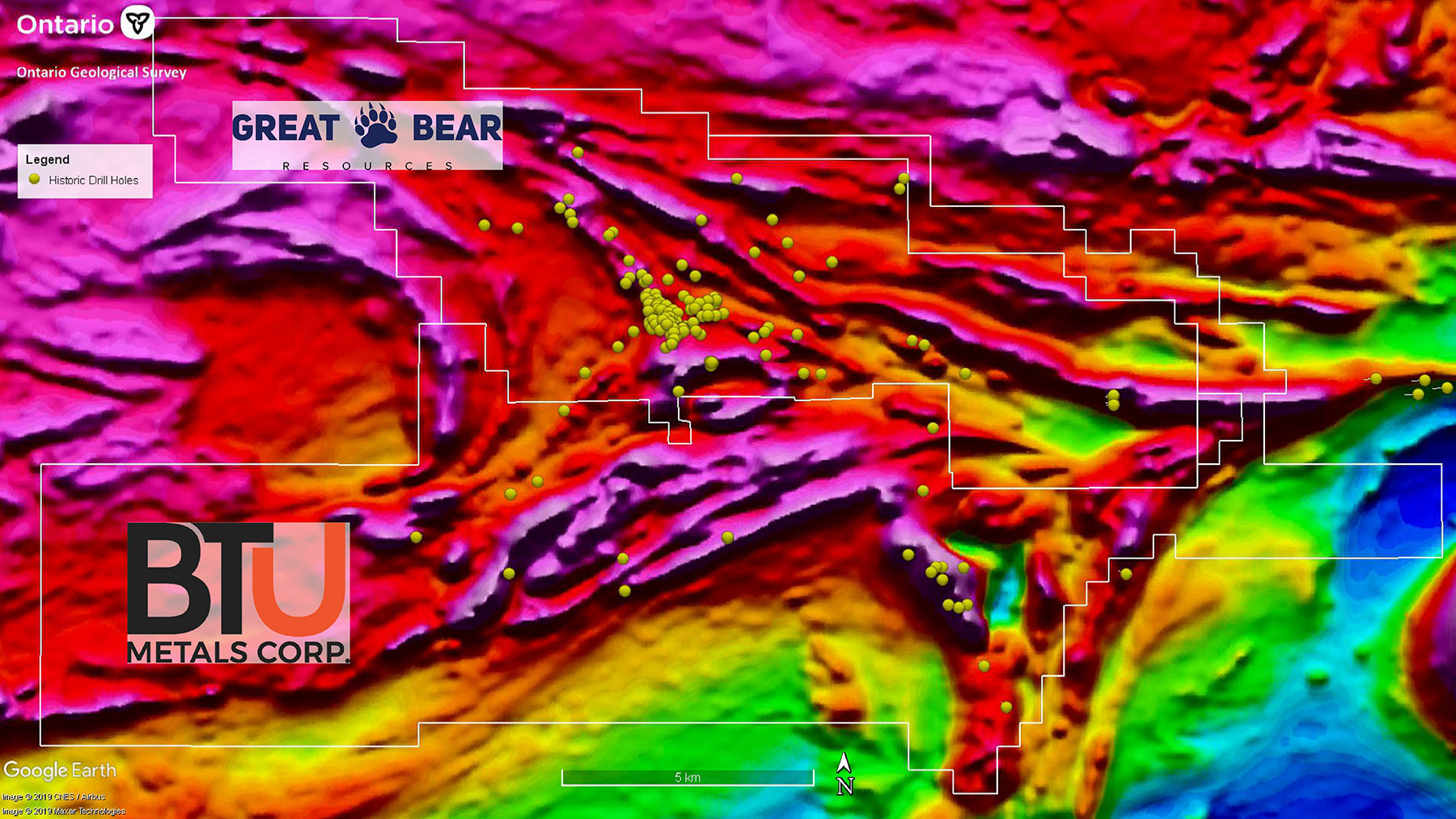 The geophysics clearly show the same high-strain package of prospective rocks with many structures that would be ideal for channelized fluid flow and metal precipitation extending onto BTU's ground. BTU has about half of the wedge of high-strain rocks that contain GBR's discoveries.
Two High Priority Targets
BTU is currently focused on exploring two high priority targets on the Dixie Halo property:
The newly discovered TNT target has indications of a large gold-bearing VMS system. Downhole geophysics are being used to generate targets for second phase drilling following a successful first phase.
The Dixie Creek target is located on trend with Great Bear's LP Trend discoveries with mafic-felsic contact ifentified. Results from a completed SGH survey identified high priority targets which have recently been drilled with assays pending.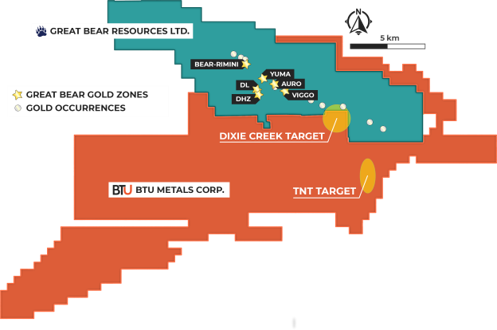 TNT Target
Target Overview
The polymetallic TNT Target was discovered in drill holes 12 and 13 (November 28, 2019 News Release) where assays revealed elevated copper, gold and silver values. Geophysics, including ground IP and resistivity, as well as airborne VTEM and downhole electromagnetics are being used to ascertain the footprint of the target and to define future drill targets. The lithology, alteration, and mineralization encountered in all holes drilled in the TNT target coupled with the geophysical data provide compelling indications of a large gold-enriched volcanogenic massive sulphide (VMS) system.
Importance of VMS Mineralization in Canada
VMS style mineralization is one of the primary sources of copper and zinc production in Canada. Some VMS systems are enriched in gold and in some cases the contained gold is worth a significant portion of the value of those deposits. Examples would include: the polymetallic mines of the Flin Flon-Snow Lake District and the Horne copper-gold deposit in Noranda.
Historic interest in the potential for VMS discoveries in the area was in large part driven by the discovery of the South Bay VMS deposit which was discovered in 1968 and later mined between 1971 and 1982 by Selco. It is well known in the industry that VMS deposits tend to form in clusters within mining camps, with several or even dozens of discoveries being in the 1-5 million tonne range, and with occasional deposits being tens to hundreds of millions of tonnes. These deposits are known to be high dollar value deposits that are relatively easy to define, develop and mine.
The total length of the extensive and broad target is now at least 200-500 meters east-west and at least 2,200 meters north-south and the target remains open for expansion on both the north and south ends. Drill holes 26 through 33 in the TNT area are currently being assayed.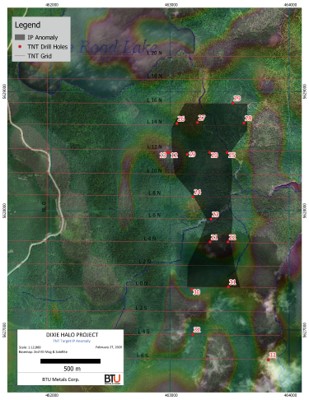 Induced Polarization & Resistivity
A Ground IP and Resistivity surveying program is underway on 200 meter spaced lines. So far lines L 16 N to L 6 S have been surveyed, with the outer edges of the anomaly marked on the map (the space within the dark perimeter is the target). The anomaly is defined by a chargeability high and a resistivity low, which is interpreted to be caused by the presence of higher concentrations of sulphide minerals.The target has been traced for over 2,200 metres in both IP and Time Domain Electromagnetics.
Click here to view pictures of drill core from phase one
Phase One Drill Results

Polymetallic mineralization was encountered at above background levels intermittently throughout the hole, however the grade and continuity of mineralization was markedly improved beginning at about 280 metres down hole (200 m vertical) and continued to the end of the hole. Phase one drilling highlights included: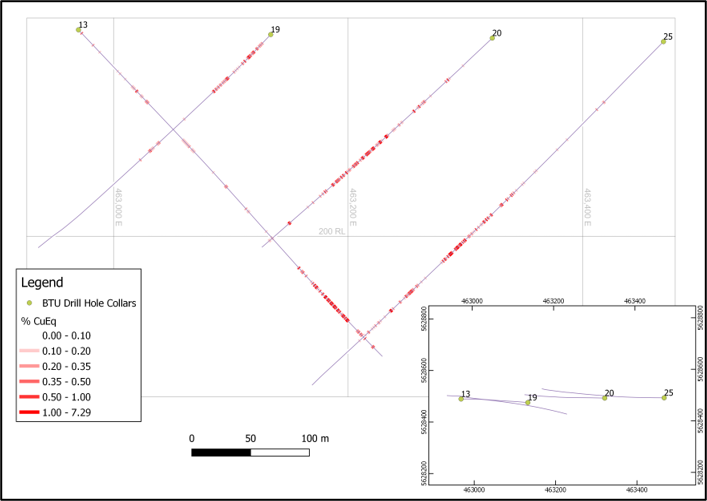 Hole 13 intersected 44.3 m of 1.14% CuEq* mineralization from 300 m down hole, including 30 m of 1.46% CuEq* which contains 9.9 m of 2.05% CuEq* and 7.2 m of 2.02% CuEq*
Hole 19, collared in mineralization, intersected 60 m of 0.27% CuEq* including 8.25 m of 0.56% CuEq* and individual sample results as high as 0.6 g/t Au over 0.6 m; 30.7 g/t Ag over 1 m; and 1.33% Cu over 1 m
Hole 20 intersected 99.8 m of mineralization including 77.4 m of 0.44% CuEq* from 123.5 m down hole with numerous higher grade subintervals including 2.3 m at 1.47% CuEq*
Hole 25 assay results include 2.27% CuEq* over 7.80 m within a very broad zone from 182 m down hole assaying 0.40% CuEq* over a core length of 147.0 m
Click here for additional information on drill holes BTU 21-25 at TNT
"With seventeen holes completed in the TNT area we now know it extends for more than 2,200 metres. The target is up to 500 metres wide – holes drilled to date are providing us with geological data and are rather widely spaced so they can act as platforms for downhole EM surveying. The TNT target is extensive, and the downhole & surface EM survey has served as a fast-track vectoring method to hone in on significant lenses of massive sulphides."
Bruce Durham
BTU VP of Exploration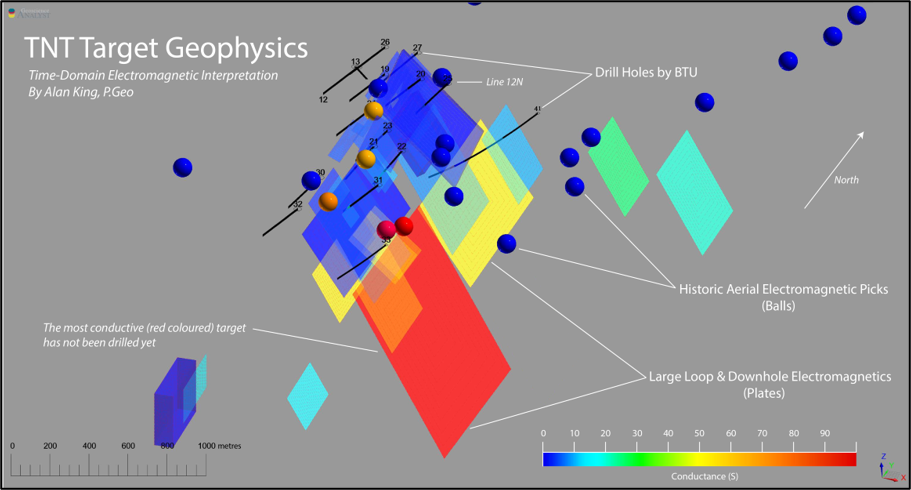 Electromagnetics
Phase one & two large loop Time Domain Electromagnetic (TDEM) down-hole survey work is now complete. Initial interpretation of data shows several priority targets particularly in an area well to the south of the copper bearing sulfide mineralization located in discovery drill hole BTU-19-13 and drill hole BTU-20-25. Targets defined by the TDEM survey are currently being drill tested.
Dixie Creek Target
Target Overview
The Dixie Creek target is contiguous with Great Bear's project to the north and east and is on-trend with their LP Trend discoveries. The target shows potential for high-grade gold. Phase one drilling encountered rock types similar to those reported by Great Bear to be the hosts of and adjacent to their LP Trend discoveries. Geophysical work including airborne magnetics and ground IP have identified many favourable structures that warrant further investigation.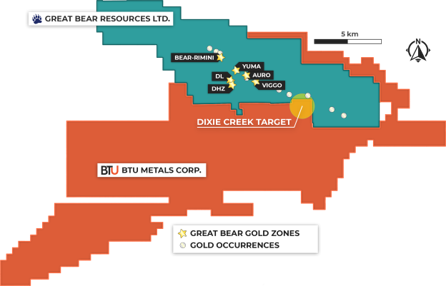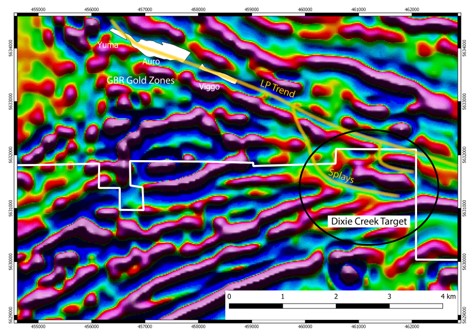 LP Trend & Structures
The LP Trend structure hosts Great Bear's most recent discoveries, with results including 10.65 g/t Au over 17.25 m and 2.67 g/t Au over 104.15 m. Great Bear has identified several gold occurrences immediately to the north and east of the Dixie Creek Target. In greenstone belts, such as the one crossing BTU and Great Bear's projects, it is not uncommon for splays off of main fault structures to contain as much gold as the actual main faults. BTU's Dixie Creek Target area hosts both the main LP Trend structure as well as many associated structures.
Click here for additional information on the May 2020 gold exploration program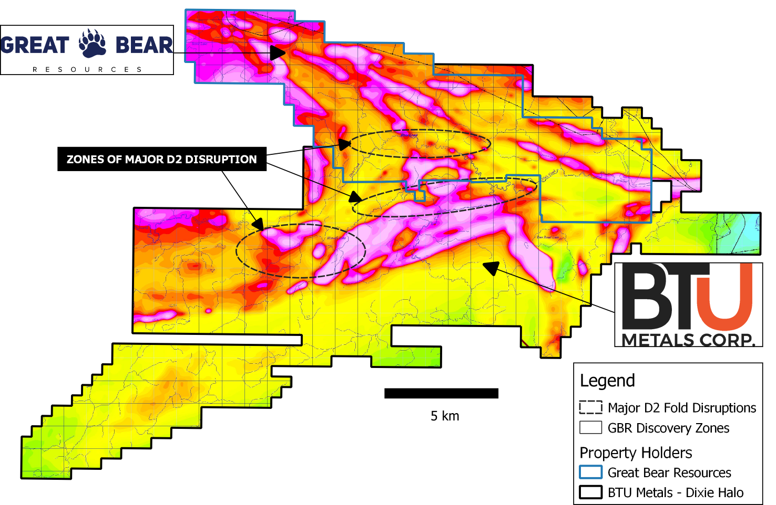 D2 Folds
The geology of the Dixie Halo property is remarkably similar to Great Bear's neighbouring project. BTU, with the help of well known geophysicist Alan King and through an on going in-depth assessment of geophysical data, has found the existence of multiple zones of major D2 fold disruption within the Dixie Halo property boundary. D2 folds have been key indicators of gold mineralization on Great Bear's project.
SGH Sampling
Gold targets generated by the completed SGH survey correlate well with other data including various geophysical datasets. The larger SGH anomaly identified coincides with a geophysical feature that extends for over 10 km on BTU ground and is completely untested. To date only a small orientation survey was completed in 2019.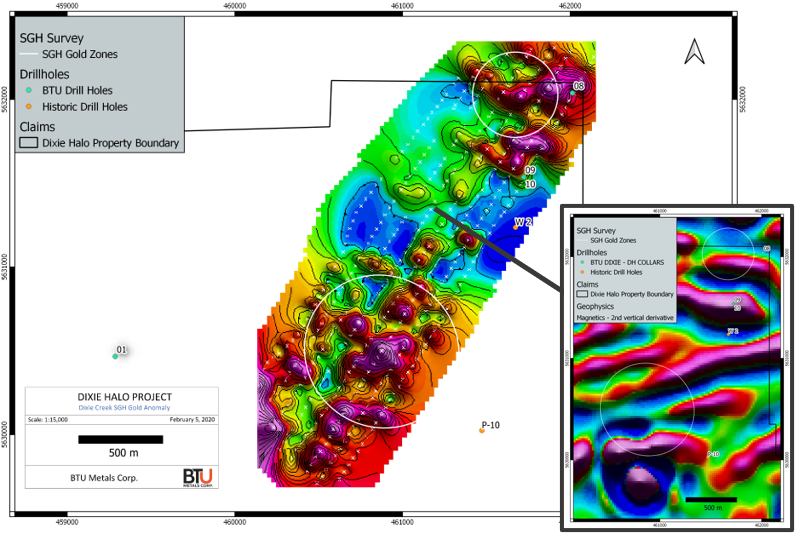 Click here for additional information on the till surveying program
Looking Forward
TNT Target
Drilling to scope size and nature of discovery
Further geophysical surveys (IP, mag) on and around the target
Downhole and surface EM surveying completed
Second drilling program is underway
Dixie Creek Target
Continue prospecting along mafic-felsic contact