Print-friendly version
Till Sampling at the Dixie Halo Property
A supplement to the Press Release dated April 7, 2020
Historic government sampling of overburden material, typically glacial till, yielded highly anomalous results on the Dixie Halo property with results as high as 32 gold grains per 10 kg of sample material in the central portion of the Dixie Halo property. This portion of the Dixie Halo property has not been significantly explored by the Company as yet. In comparison, this same survey found only 9 gold grains in a 10 kg sample in the area of GBR's Dixie Hinge zone and LP fault discoveries. A high proportion of the gold grains in these till samples were pristine, indicating they have travelled only a short distance, generally well less than 1 km from where they were scoured from a bedrock source during glaciation. Glacial flow direction in the area is generally from the northeast to the southwest. Tracing of anomalous gold in till sample results back to their source as a way to locate new areas of gold mineralization under overburden has been proven to be a valid, unique and powerful way to discover new gold deposits. In glaciated terrains, many significant gold discoveries have resulted from careful use of this technique over the past 40 years across Canada and elsewhere. Gold mines discovered in similar terrain would include Casa Berardi, Quebec (INCO), Bell Creek, Ontario (Rosario Resources) and Rainy River Ontario (Rainy River Resources). For decades, Overburden Drilling Management ("ODM") who processed the till samples for the Company, have been one of the leaders in the science, sampling techniques, and interpretations of data from gold in till data.
As part of its ongoing more regional exploration effort, the Company initiated a first pass till sampling program to corroborate the results of the historic government work and to attempt to build a more robust till sample database. The program set out to do a first pass (roughly 1 km by 1 km grid of samples) over part of the property in areas of particular interest for buried gold mineralization. A significant portion of the sample locations did not have suitable till material exposed at surface and these areas will be evaluated further using test pits during the upcoming field season.
The till sample that contained the highest gold grain count in the new sampling program returned the highest gold grain count in the entire area of the Company's Dixie Halo and the Great Bear Resources Dixie properties. That sample contained a total of 120 gold grains including 99 gold grains that were classified as pristine gold grains. Over the past several decades government experts and specialty labs such as Overburden Drilling Management have established that pristine gold grains do not typically travel far from the location where they were scraped off the bedrock surface by the glaciers at the time of formation of the till material. Their experience and that of numerous explorers in Canada and elsewhere is that pristine gold grains have likely travelled less than 1 km and in fact usually have travelled only a few hundred metres in the direction of the glacial flow.
Pristine gold grains
Pristine Au grains retain primary shapes and surface textures and appear not to have been damaged in glacial transport. They occur as angular wires, rods and delicate leaves that formed as fracture fillings, as crystal faces and grain molds, and as inclusions in sulphides. The transport history of pristine grains may be interpreted in two ways. Au grains were eroded from a bedrock source nearby and glacially transported to the site with little or no surface modification, and transport distance is generally short. Alternatively, Au grains were liberated from rock fragments during in situ weathering of glacially transported sulphide grains containing Au, wherein the pristine shape and surface texture provide little information on transport distance, but do provide important information on the style of Au mineralization, i.e. sulphide hosted Au mineralization.
Figure 1: Sampling site at BTU's Dixie Halo project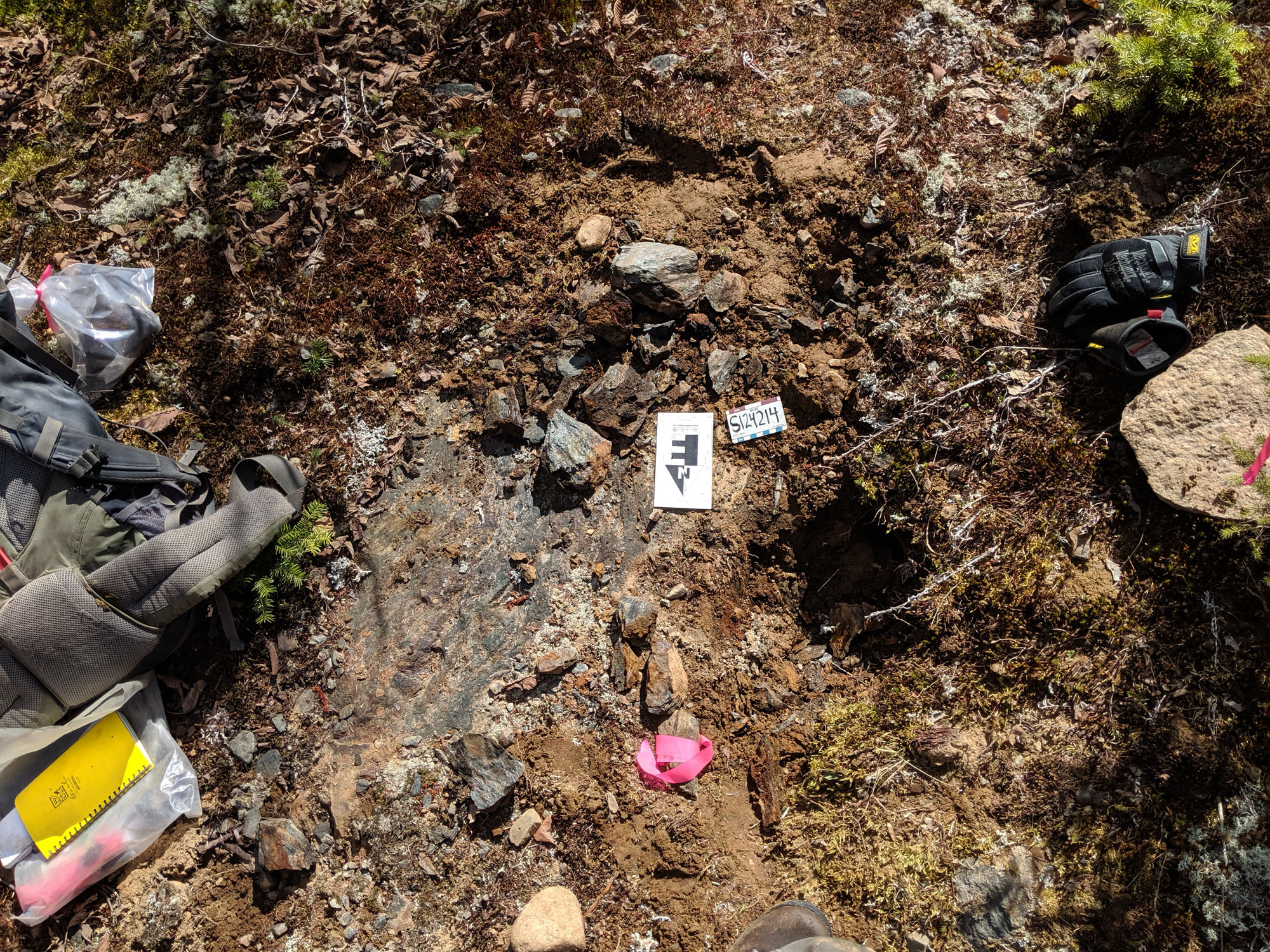 Figure 2: BTU till sampling station