Project Highlights
BTU has entered into a series of transactions with Kinross Gold Corporation that will strengthen the exploration effort on the significant properties of BTU in the Great Bear gold area southeast of the main Red Lake Gold camp area of northwestern Ontario: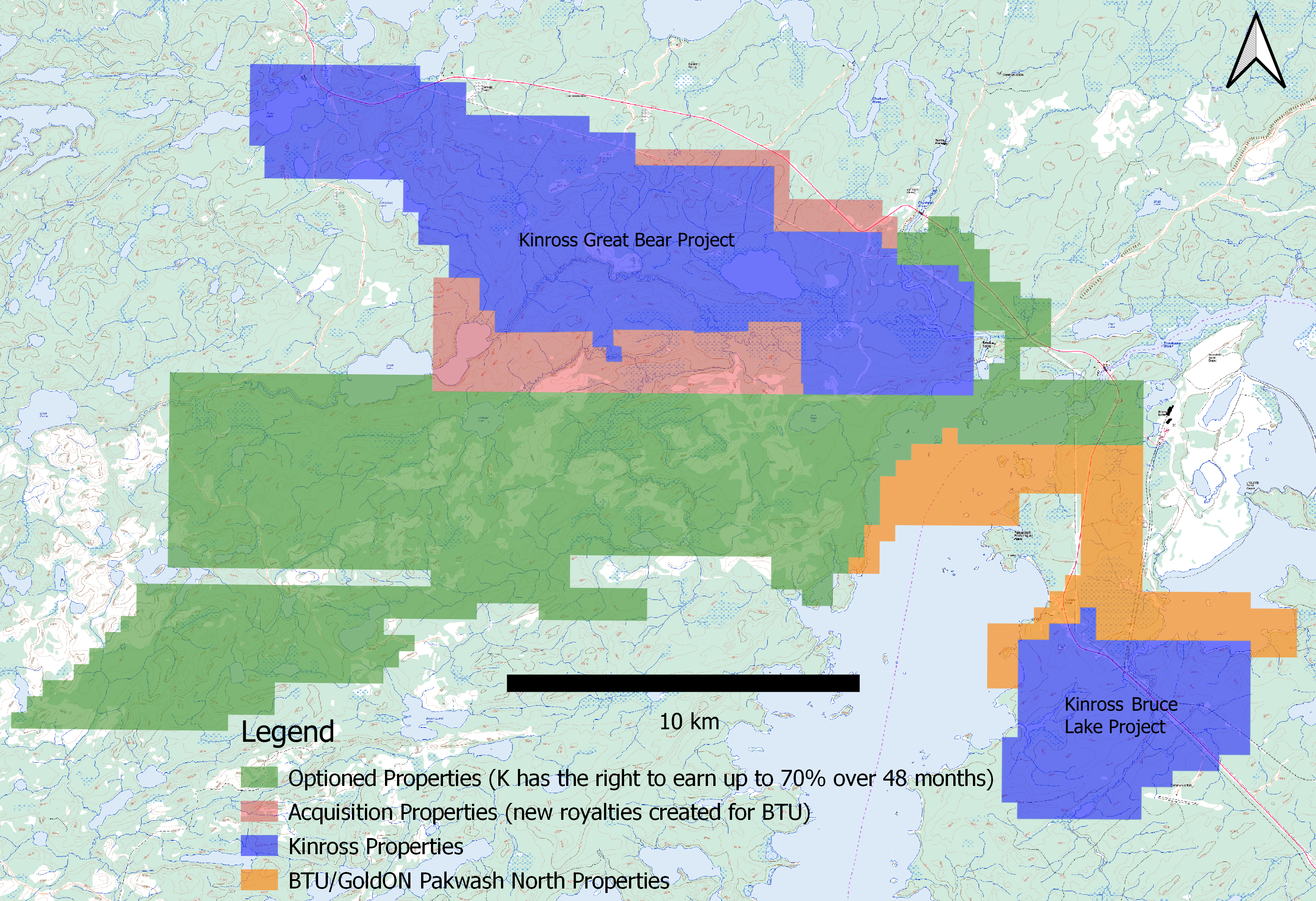 Acquisition Agreement
Kinross is purchasing 100% of the "Acquisition Properties" (see deal map) which sandwich the Great Bear project and cover a total of 2,637 hectares.
The consideration payable by GBR pursuant to the Acquisition is: (i) CAD$1,550,000 in cash, with CAD$1,250,000 due immediately on closing (Feb 22, 2023) and an additional CAD$300,000 due on the one-year anniversary of the closing date, and (ii) GBR issued to the Company a variable 1.5% - 2.5% NSR royalty on the Acquisition Properties (see New Royalties map).
BTU will maintain any existing third-party royalty buy-back rights in respect of the Acquisition Properties (see Royalty Buyback map).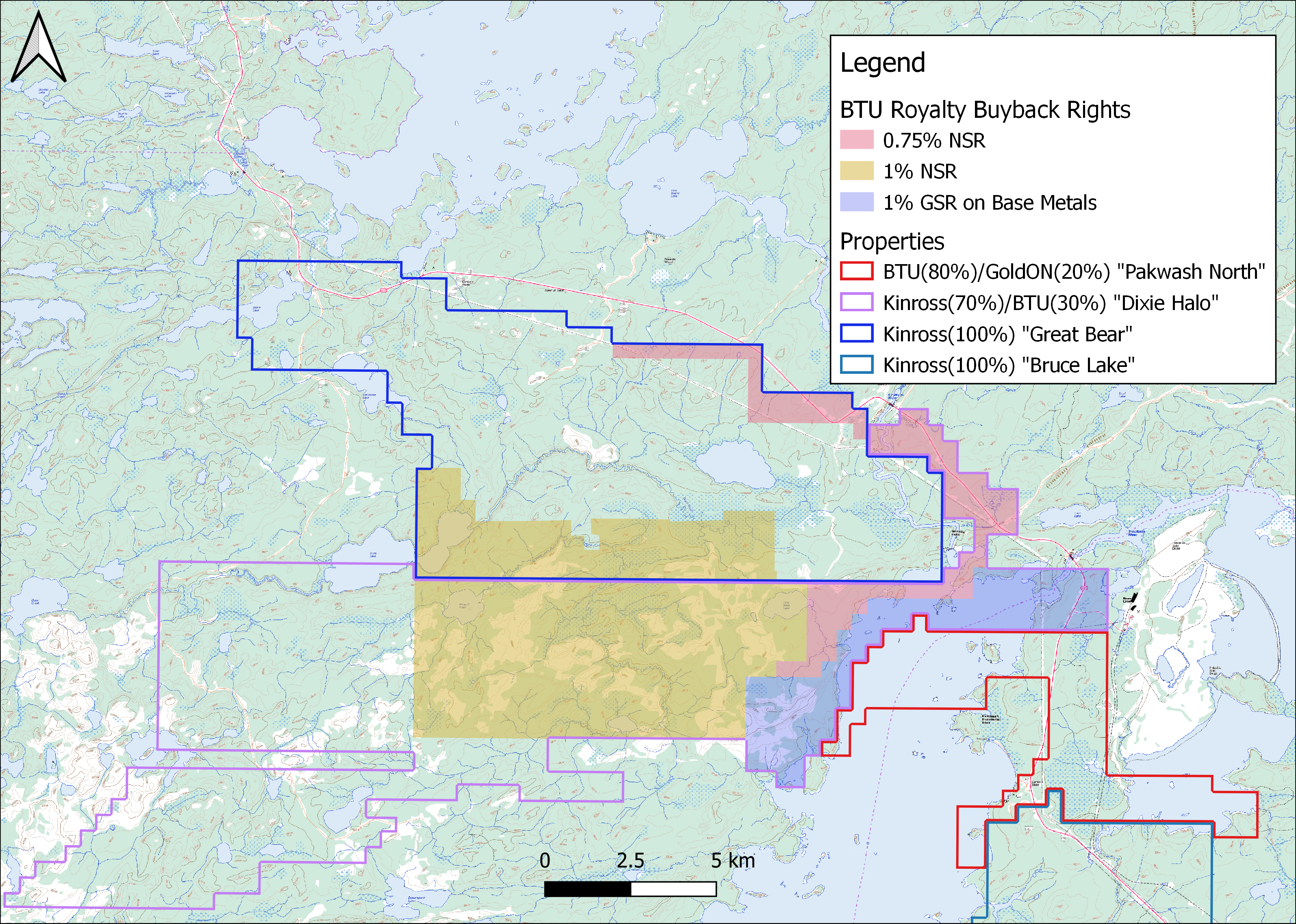 Option Agreement
Kinross has the right to acquire an undivided 70% interest in the "Optioned Properties" (see deal map), covering a total of 16,410 hectares
Kinross is committed (whether they choose to drop the option or not) to making CAD$2,700,000 in expenditures on the Optioned Properties within 36 months of the effective date of the Agreement (Feb. 22, 2023)
Kinross must make a further CAD$2,000,000 of expenditures within 48 months of the effective date of the Agreement (a total of CAD$4,700,000) to acquire 70% interest
Upon exercise of the option the parties will form a joint venture agreement with BTU owning 30% of the project
If Kinross does not exercise the option within 48 months BTU will retain 100% of the Optioned Properties
BTU retains any underlying royalty buyback rights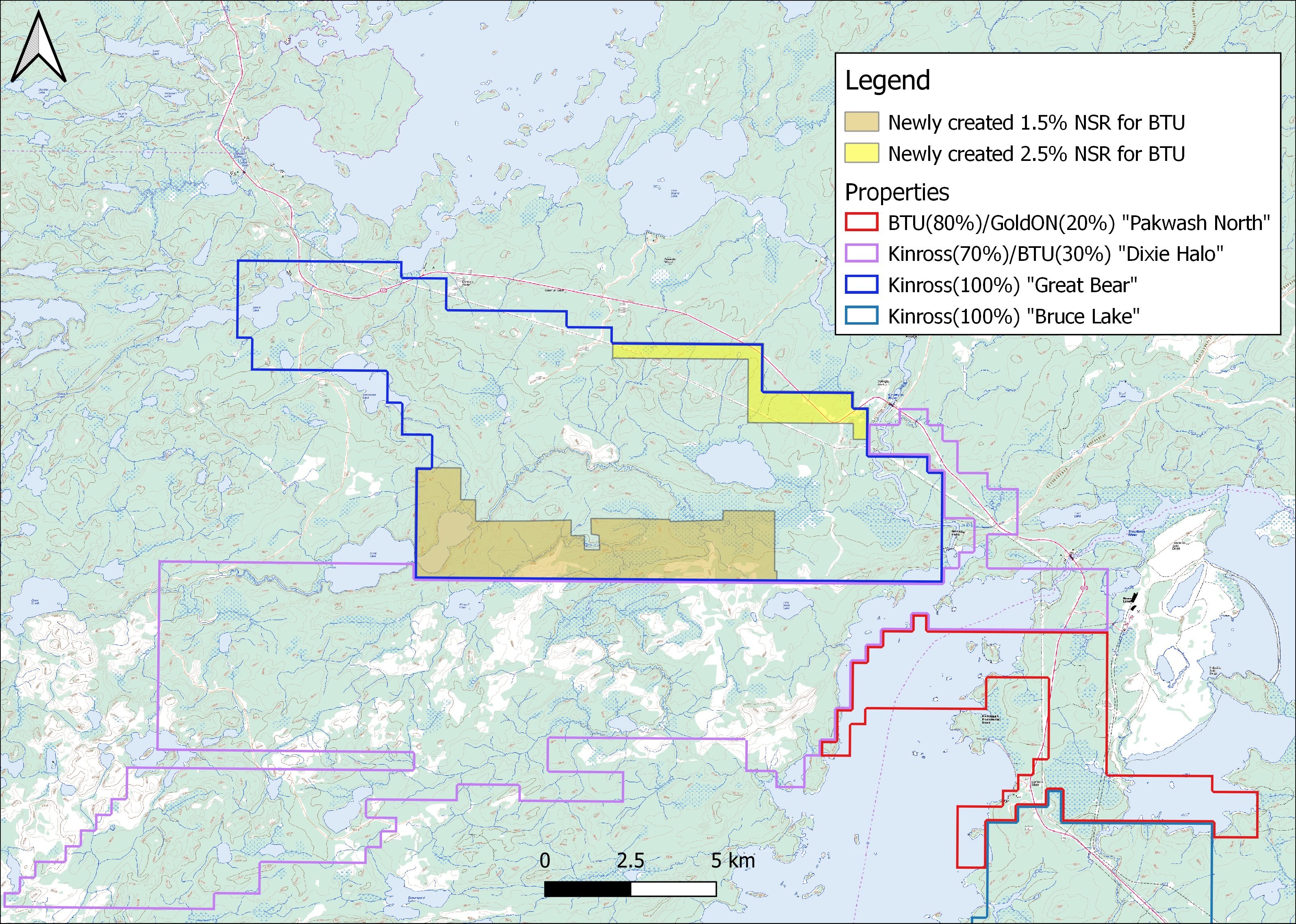 Subscription Agreement
The Company has entered into a subscription agreement with Kinross for gross proceeds of approximately CAD$1,250,000 million in an arms-length private placement (the "Private Placement") of its common shares (the "Common Shares"), comprised of 25,000,000 Common Shares at a purchase price of CAD$0.05 per Common Share. The net proceeds of the private placement will be used by the Company for investments, general and working capital purposes.
The Private Placement closed on February 22nd, 2023, subject to the satisfaction of customary closing conditions, including the final approval of the TSX Venture Exchange (the "TSX-V"). Kinross became an insider of the Company upon the closing of the Private Placement, and holds 25,000,000 Common Shares, representing 17.5% of the issued and outstanding Common Shares.
The Common Shares will have a hold period of four months and one day from the closing date of the Private Placement.